As we enter 2023, the Year of the Rabbit, according to the Chinese zodiac, I am so pleased that the world is returning to more in-person events, giving us the chance to experience the joy that being together can bring. As we revisit what it means to have meaningful, face-to-face interactions, I reflect on our work at Fund for Shared Insight promoting funder listening and meaningful connections among foundations, nonprofits, and the people and communities at the heart of their work. When philanthropy is responsive to the input and feedback of those most harmed by systemic racism and other structural inequities, we move toward our goal of sharing and shifting power to communities, so that people are better off in ways they define for themselves. While our sector has a long way to go, I am encouraged by the progress Shared Insight has made in the last 12 months, spreading this message, joining with more partners, and continuing to build both commitment and capacity around listening.
When Shared Insight began this work in 2014, we talked about how listening and asking for feedback from the people at the heart of our work is the right thing to do from a moral imperative. Also, how feedback is the smart thing to do – hypothesizing that gaining feedback from people experiencing the programs and services nonprofits deliver and foundations fund will result in better outcomes. And as a funder collaborative, we sought to make listening and feedback the feasible thing to do for both nonprofits and foundations.
The right thing
It is encouraging to see how the social sector is embracing the fact that listening to communities most harmed by the systems we seek to change is the right thing to do. We believe that people closest to the problems have not only the expertise to solve them, but also an inherent right to determine the path forward. The racial reckoning in our country has made this very clear and we can see this lived out in the values, practices, and growing efforts around trust-based philanthropy, community-driven philanthropy, and other participatory processes in philanthropy that are demonstrating that listening is also the smart thing to do.
The smart thing
When we launched Shared Insight, our holy grail questions were: Is there a connection between feedback and outcomes for the individuals who provide it? And, can feedback collected today be a predictor for future outcomes? Now, armed with definitive results from a portfolio of feedback grants, we can finally answer "Yes!" to these questions.
Findings show there is indeed a relationship between feedback and outcomes for individuals served by customer-facing, direct-service organizations. We have evidence that:
Gathering and responding to high-quality perceptual feedback correlates with better outcomes for individuals; and
The act of implementing high-quality perceptual feedback loops in and of itself can lead to better outcomes.
We also have a growing body of work from the organizations and consultants who produced these results about their research and experiences studying feedback.
The feasible thing
We know that for foundations and nonprofits to practice high-quality listening and feedback they need tools and resources to do this in equity-centered, non-extractive ways. Through our signature initiative, Listen4Good, we have worked with more than 700 nonprofits across the U.S. to implement high-quality feedback loops with the people they serve. And Listen4Good is about to engage with its largest cohort of participants ever — more than 100 nonprofits that are starting to listen for good this month. We have also partnered with more than 140 foundations in sponsoring those organizations to build their capacity to listen on an ongoing basis. We look forward to seeing Listen4Good continue to flourish as it spins off into an independent entity this year, providing affordable, sustainable capacity building to a growing number of nonprofits.
We also look forward to continuing to work with our Funder Listening Community of Practice, now composed of 12 philanthropy-serving partners that share our goal of challenging and supporting foundations to change practice, share decision-making power over resources, and contribute to lasting and meaningful change. This super group is collaborating to embed the principles and practices of high-quality listening centered in equity into their program offerings for funders in their networks. They are also creating and disseminating tools intended to make funders' efforts to listen to people and communities more feasible and sustainable. In parallel and complementing efforts, Shared Insight will be sharing additional tools and resources for the field this year, too, including a participatory philanthropy toolkit and more examples of how funders are listening in our ever-evolving Funder Action Menu.
These projects and our work with the funder community of practice reflect Shared Insight's expanding emphasis on baking into philanthropy the idea that listening and feedback are critical aspects of effective and equitable grantmaking. We know feedback is the right, smart, and feasible thing to do — and Listen4Good's growing success is just one marker demonstrating that more and more nonprofits around the country agree. Now, we are giving extra attention to accelerating uptake among foundations, providing the case and the tools for grantmakers to adopt high-quality listening practices that ultimately shift and share power.
As we move into the new year, I look forward to hearing from you — maybe even in person — about how you are deepening your efforts to center equity and listen to the people and communities at the heart of your work. Happy 2023!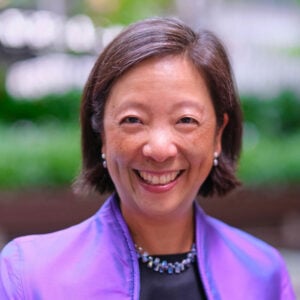 Melinda Tuan
Managing Director, Fund for Shared Insight