More and more nonprofits are considering how they can better listen and respond to their clients' perceptions and opinions about the organizations' work. They understand that changes based on client feedback can lead to improved programs, services, and outcomes. But what the field seems to be interested in better understanding is whether there are specific activities and practices particularly important to creating the highest quality, most impactful, and most equity-based client feedback loops.
To help answer that question, ORS Impact partnered with Fund for Shared Insight, Feedback Labs, and the feedback capacity-building program Listen4Good to more deeply explore what specific feedback practices constitute a high-quality feedback loop. ORS took the lead, examining evaluation surveys Listen4Good had collected from 167 participating organizations over the course of two years. With the data, ORS analyzed the relationship between specific feedback practices and specific feedback loop outcomes.
Figure 1 summarizes those practices and outcomes. A full report shares the ORS findings in detail, but here we lift up some highlights for nonprofits and practitioners looking to implement high-quality feedback practices. We share an overall observation, recommendations for nonprofits, and thoughts about the implications for the feedback field.
Figure 1 | Summary of practices and outcomes considered in the analysis. (Click image to zoom in.)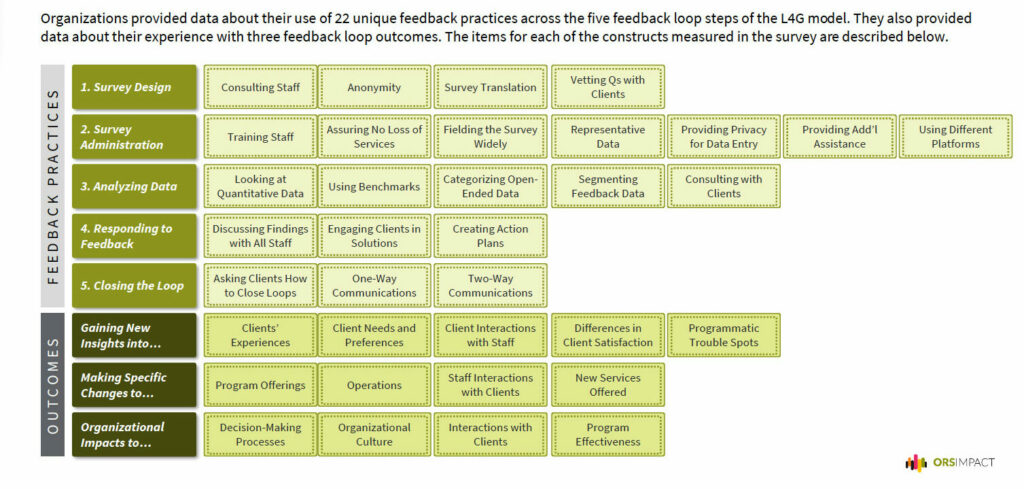 General Observation
All feedback practices contribute to organizational benefits, and the more nonprofits can engage in these practices, the more likely they are to benefit from client feedback.
Nonprofits and other organizations supporting work in the feedback field have generally come to a common understanding of what high-quality feedback loops look like. They are typically defined as including five main steps: designing a strong survey, collecting useful data, analyzing data to gain insights, responding to those insights, and closing the loop by reporting back to survey respondents. But we know from practice that survey design and other steps in the process can be executed differently and quality can vary. And even as we now see that just engaging in feedback at any level has benefits and is a good start, our analysis wanted to better understand what goes into ensuring how a feedback loop can be done well. To do this, we worked with Listen4Good to break down each of the five steps, teasing out specific practices (Figure 1) that organizations should pay attention to.
Until now, the focus in the feedback field has been on these kinds of specific practices, But our new research suggests that it's not all about the details. The more nonprofits simply engage in any kind of feedback practices, the more they learn and experience the benefits of hearing from their clients. On one hand, nonprofits that are adept at executing at least some steps in the feedback-loop process are likely to be able to develop and improve in other areas of their practice. But on the other hand, nonprofits don't have to wait to have everything figured out; they can develop some practices and continue improving along the way, knowing that the more they do, the more beneficial feedback loops will be for their organization and its clients.
Recommendations for Practitioners
While we now know that all practices contribute to organizational benefits in some way, specific practices are better suited to certain types of goals.
As nonprofits develop feedback loops, they may be interested in different types of goals associated with feedback loops, such as learning from feedback, informing changes they should make, or supporting deeper organizational transformation. While we now know that all practices contribute to organizational benefits in some way, some practices are better suited to certain types of goals. These findings shed light on a few recommendations for nonprofits:


Data collection is key – it supports a variety of goals: Doing data collection right is a key step in a high-quality feedback loop. Without high-quality data, nonprofits risk making adjustments that do not reflect the perspectives of their clients. Our research showed that the quality of data collection was closely connected to different feedback outcomes. Collecting data better representative of the client population, for example, leads to better learning and more responsive changes that can have broader organizational impacts. Improving data collection, such as by offering surveys on a variety of platforms and ensuring data privacy, can also produce more robust feedback that can lead to more impactful change.
Strong data analysis drives insights and impact: This idea not only feels intuitive, it is now supported by our research findings. Indeed, high-quality feedback is not just about collecting data; organizations need to analyze data and make sense of findings to drive insights and impact. Specific practices like using quantitative averages, benchmarks, and data segmentation are all correlated with the ability of organizations to learn from feedback while informing decision-making processes and contributing to increased program effectiveness.
High-quality feedback loops should be participatory rather than extractive: Participatory approaches that engage both staff and clients in the feedback process are important in ensuring nonprofits gain the most out of their feedback work. Participatory approaches bring client voices into the survey design process and ensure staff are aware of why and how feedback is being collected. They also facilitate a meaning-making process with staff and clients to ensure that findings from feedback are understood and inform solutions. Specific practices like vetting questions with clients, discussing findings with staff, training staff on the survey process, and engaging clients in developing solutions correlated with the ability of nonprofits to learn from feedback, make changes, and experience organizational impacts.
Closing the loop is a win-win: Clients benefit from greater transparency, while organizations can gain new insights and experience organizational transformation from engaging with clients as partners. For instance, the practice of asking clients how to close the loop was correlated with gaining more insights, particularly about differences in satisfaction among clients and how staff interact with clients.
Implications for different actors in the feedback field
Nonprofits
While nonprofits are likely at different stages in developing their feedback work, there are specific practices within the feedback loop that they can pay special attention to as they think about where to build skills. Understanding where their strengths and opportunities for growth lie, they can better assess where to focus their energy, while knowing that doing the work is, in itself, a lever for achieving benefits for the organization.
Resources to leverage:
Infrastructure organizations
Organizations that aim to support nonprofits in building their feedback practice can work with nonprofits to assess their strengths and where they have opportunities to further improve their practice. In designing support structures and programs, they should work with nonprofits to align their growth path to the goals they want to achieve to create a roadmap for which practices to focus on first.
Resources to leverage:
Funders
We have clear evidence that high-quality feedback practices can lead to concrete improvements in the ability of organizations to serve their clients while contributing to deeper transformation in their relationship with those clients. Funders can prioritize providing adequate funding and capacity-building opportunities so that nonprofits can hone these skills to improve their organization.
Resources to leverage: