Here's what's up so far in the new year:
On April 1, 2020, Fund for Shared Insight will open a new round of co-funded Listen4Good (L4G) grants, continuing to grow the collaborative's national feedback initiative. Applications will be due June 19, 2020. Shared Insight will also be piloting new ways for funders to support L4G-participating nonprofits. Stay tuned.
Shared Insight's growing storytelling library demonstrating the transformative power of feedback features a new video with a food pantry client-turned-volunteer describing feedback as "adding love to the whole entire process."
Shared Insight's #Feedback4Equity series continues to animate and inform work in the field. In case you missed it, catch up here.
Listen4Good Co-Funded Grant Opportunity

Shared Insight is getting ready for the next Listen4Good co-funded grant round, which will open April 1, 2020. Submissions will be due by June 19, 2020, at 11:59 pm Pacific time.
Shared Insight also plans to pilot new ways for funders to support participation in L4G. Please stay tuned for more information.
L4G supports customer-facing nonprofits — across issue areas, communities, and budget sizes — that want to make meaningful improvements to programs and services based on their clients' needs and preferences. The program's survey methodology offers a simple, yet systematic and rigorous way to listen to, and respond to, the people philanthropy and nonprofits seek to help. L4G participants receive an 18-month grant; a premium SurveyMonkey account; unlimited access to a new interactive feedback-loop-building website; and one-on-one coaching to move smoothly through a proven five-step process to design and implement high-quality, client-focused feedback loops.
To participate in L4G's co-funded grant round, an organization must be nominated by a current funder (existing or new).
Funders, see more information here; nonprofits, here.
New Video Shows How Feedback Brought Changes in Process and Love to an Ohio Food Bank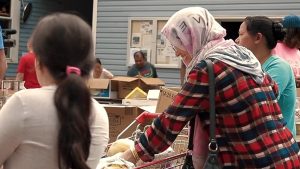 Shared Insight has released a new video featuring the Akron-Canton Regional Foodbank's Voices Project, which collected feedback from clients visiting area food pantries and supported the pantries as they responded by making changes and communicating with clients.
"The way we treat somebody, the way we listen to them, could be the difference between them getting enough food for their family or not," Katie Carver Reed, a Foodbank program director, says in the video.
Following surveys of clients, the food pantries closed the feedback loop in a variety of ways, including by meeting with small groups to share results, writing up the results in a short newsletter, featuring information on a television screen, and having volunteers talk with clients during their visits.
Responding to ideas expressed in the surveys and focus groups, one pantry where clients often have to wait outside to get into the small facility put up an awning and added benches outside its entrance. Another added signs at its sites to improve the pick-up process, illustrating them with pictures for non-English-speaking clients.
"I think things have really improved since the survey," says Renee Lester, a former pantry client who now volunteers. She says feedback has added "love to the whole entire process," and helped the food pantry learn "how to approach people, because you never know where people really are in their journey."
ICYMI: #Feedback4Equity Series Continues to Animate and Inform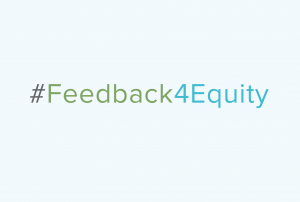 Shared Insight invites you to continue to engage with its #Feedback4Equity series, a space created last fall to explore the relationship between feedback and equity, diversity, and inclusion. Through a series of stories and blog posts on Shared Insight's website and in partnership with other organizations and publications, the aim has been to spark discussions and challenge preconceptions. The series is also meant to raise awareness of feedback loops as a way to value the lived experience of nonprofit clients, engaging them as partners in making lasting, meaningful change. Another organization in the field, Feedback Labs, has also been sharing content on the subject, and, like Shared Insight, is using the hashtag #Feedback4Equity. Please read and share the #Feedback4Equity content with your networks.