Here's a quick countdown of the latest developments at Fund for Shared Insight:
Announcing New Listen4Good Grantees

Fund for Shared Insight announces the 51 newly selected grantees to participate in the latest co-funded round of Listen4Good, the collaborative's signature national feedback initiative. L4G is a capacity-building program dedicated to supporting the practice of listening to the people philanthropy and nonprofits seek to help, especially those whose voices are least heard. L4G co-funded grantees receive $30,000 over 18 months, one-on-one coaching, and access to a groundbreaking interactive website, L4G Online, to help them design and implement high-quality, client-focused feedback loops.
Please see a list of the new L4G co-funded grantees below and a searchable list of all Shared Insight grantees here. Including the nonprofits beta testing L4G's web app, there are more than 450 organizations implementing Shared Insight's feedback program.
The latest L4G cohort is supported by 28 co-funders, including 16 new to Shared Insight, bringing to 110 the total number of funders participating in the collaborative. Among the new funders is the Ewing Marion Kauffman Foundation, which is supporting nine grantees. And  NEPA Funders Collaborative, a consortium of grantmakers in Northeastern Pennsylvania supporting five grantees explicitly with the goal of creating a learning community of L4G funder and nonprofit participants in their region.
Returning funder Virginia G. Piper Charitable Trust is supporting six grantees, bringing to 26 the total number of nonprofits the foundation has nominated over the years, the most among L4G co-funders.
Ability360
Anti-Recidivism Coalition
Area Agency on Aging, Region One
Asian Task Force Against Domestic Violence
Big Brothers Big Sisters of Greater Kansas City
BioBus
B-K Health Center
Bridge Over Troubled Waters
California Shakespeare Theater
Ceres Community Project
Children's Service Center of Wyoming Valley
Cities for Financial Empowerment Fund
Commission on Economic Opportunity of Luzerne County
Compass Family Services
Cornerstones of Care
Duet: Partners In Health & Aging
SaverLife
Friends of the Children-Boston
Girls Leading Girls
Goodwill of Silicon Valley
Green & Healthy Homes Initiative
Groundwork USA
Habitat for Humanity of Kansas City
HappyBottoms
HomeFront
Hope and Comfort
Hope House Day Care Center
Human Services Campus
Jewish Family & Children's Service
Keshet
Lorain County Health & Dentistry
Maternal and Family Health Services
MyPath
National Immigration Forum
New Hope Housing
Newhouse
Over-the-Rhine Community Housing
Partnership for Regional Educational Preparation-Kansas City
SCE Federal Credit Union
Second Harvest Food Bank of Central Florida
Silver Lining Mentoring
Southern Arizona Association for the Visually Impaired
Stephen F. Austin Community Health Center,
Tahirih Justice Center
The Door – A Center of Alternatives
The Family Conservancy
The Resurrection Project
Transitions of Western Illinois
Volunteers in Medicine
Wildwood Outdoor Education Center
Women's Employment Network
Nonprofit Staff and Clients Tell Their Listen4Good Stories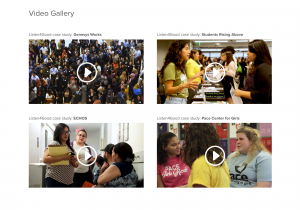 Shared Insight continues to expand its gallery of short videos that tell captivating stories of how Listen4Good feedback is empowering girls in Florida, high school students in Minnesota, college students in California, people seeking healthcare in Texas, families facing homelessness in Arkansas, and adults with disabilities in Tennessee. In the videos, we hear directly from L4G-participating funders, nonprofit staff, and clients about how feedback has led to positive changes in the way programs and services are designed, delivered, and received, and how a culture of listening can inform decision-making, promote more equitable outcomes, and, ultimately, improve people's lives.
Two New #Feedback4Equity Op-Eds
The Chronicle of Philanthropy recently published a compelling op-ed by Shared Insight's co-chairs, Kelley Gulley of the James Irvine Foundation and Fay Twersky of the William and Flora Hewlett Foundation. The piece, "Feedback Can Be a Catalyst for Shifting Power and Making Big Changes," is part of the #Feedback4Equity series exploring the relationship between feedback and equity, diversity, and inclusion. In it, Kelley and Fay describe the work at Listen4Good-participating nonprofits The Art Effect and Our House to demonstrate how feedback can advance equity and inclusion; offer examples of how their foundations are listening; and call for grantmakers and nonprofits to embrace listening and feedback in the service of advancing equity. 
In another #Feedback4Equity piece published by Feedback Labs, "Asking the Hard Questions: Does Our Feedback Work Promote Equity?" Listen4Good team leaders Valerie Threlfall and June Wang explore the relationship between L4G's feedback-loop process and equity, concluding that "high-quality feedback, fully embraced, offers a productive path towards greater inclusion and equity."
Join the Fund for Shared Insight Team

Shared Insight is seeking a consultant to help design, launch, and manage a participatory grantmaking program to support deeper and more meaningful connections between advocacy and policy organizations focused on climate change and the people their work impacts. The collaborative is looking for someone with experience planning and running participatory grantmaking programs and with a passion for social and environmental justice, equity, and inclusion. Please see the full description here. Applications are due December 30.