Feedback is a simple yet powerful tool for including the perspectives and valuing the lived experience of the people most impacted by the work of nonprofits and philanthropy. Done right, it can lead to meaningful change in the way organizations make decisions, deliver services, and relate to clients. It can also enhance an organization's commitment to equity, diversity, and inclusion. But not all feedback practices are equally beneficial or effective. Learn how Fund for Shared Insight defines high-quality feedback loops.
Fund for Shared Insight is part of a growing field of funders, nonprofits, aid organizations, and government agencies that are promoting feedback as a tool for learning from and engaging with the people and communities they serve.
Shared Insight defines feedback as the systematic practice of listening and responding to the perspectives, feelings, and opinions of people who have direct experience with an organization, program, or service. One of our goals as a funder collaborative is for high-quality feedback to become a widely-practiced norm and complement to monitoring and evaluation in the social sector.
Because feedback can mean different things to different people, almost all organizations will report that they already use feedback. However, the methods used to gather feedback may be episodic and/or informal, and the results may not be used for learning and change. That's why we believe organizations should implement what we define as high-quality feedback loops.
What Is a Feedback Loop?
For feedback to be of greatest use to an organization and empowering for the people giving feedback, the process should involve more than asking for people's opinions or putting out surveys. Fund for Shared Insight's Listen4Good, a national feedback initiative, recommends that feedback first be framed as a loop in which an organization takes in feedback but also must do something with it. L4G recommends a multi-step process that includes designing the survey, collecting the responses, interpreting the results, responding; and going back to those who were surveyed to share what was heard and how the organization is going to respond to the feedback. This last step — often the most challenging but critically important — is called "closing the loop." Together, these steps constitute a feedback loop.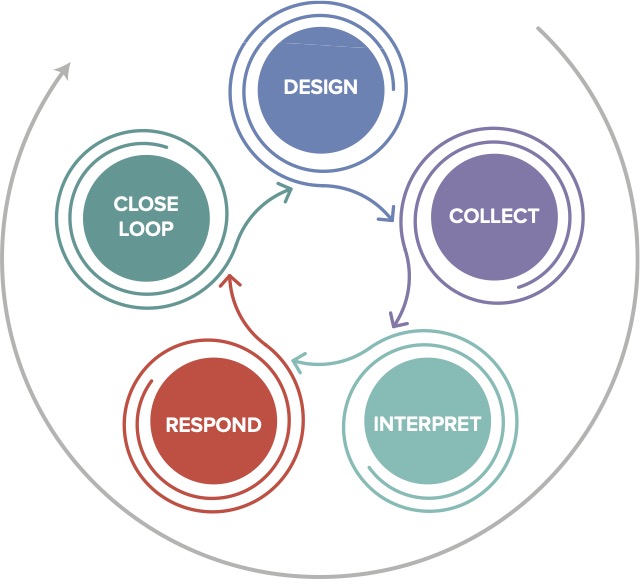 What Is a High-Quality Feedback Loop?
Fund for Shared Insight uses "high-quality feedback loops" to describe feedback practices that:
Employ simple yet flexible data collection approaches

Capture a large number of representative client voices and gather credible, candid feedback

Identify areas for celebration and areas for improvement, while shedding light on differential experiences across specific client groups

Engage organizational decision-makers (and external stakeholders, such as funders) to learn from client feedback and implement changes based on what is learned

Close the loop by sharing back with clients what was learned from listening to them and the specific ways that an organization is responding to their feedback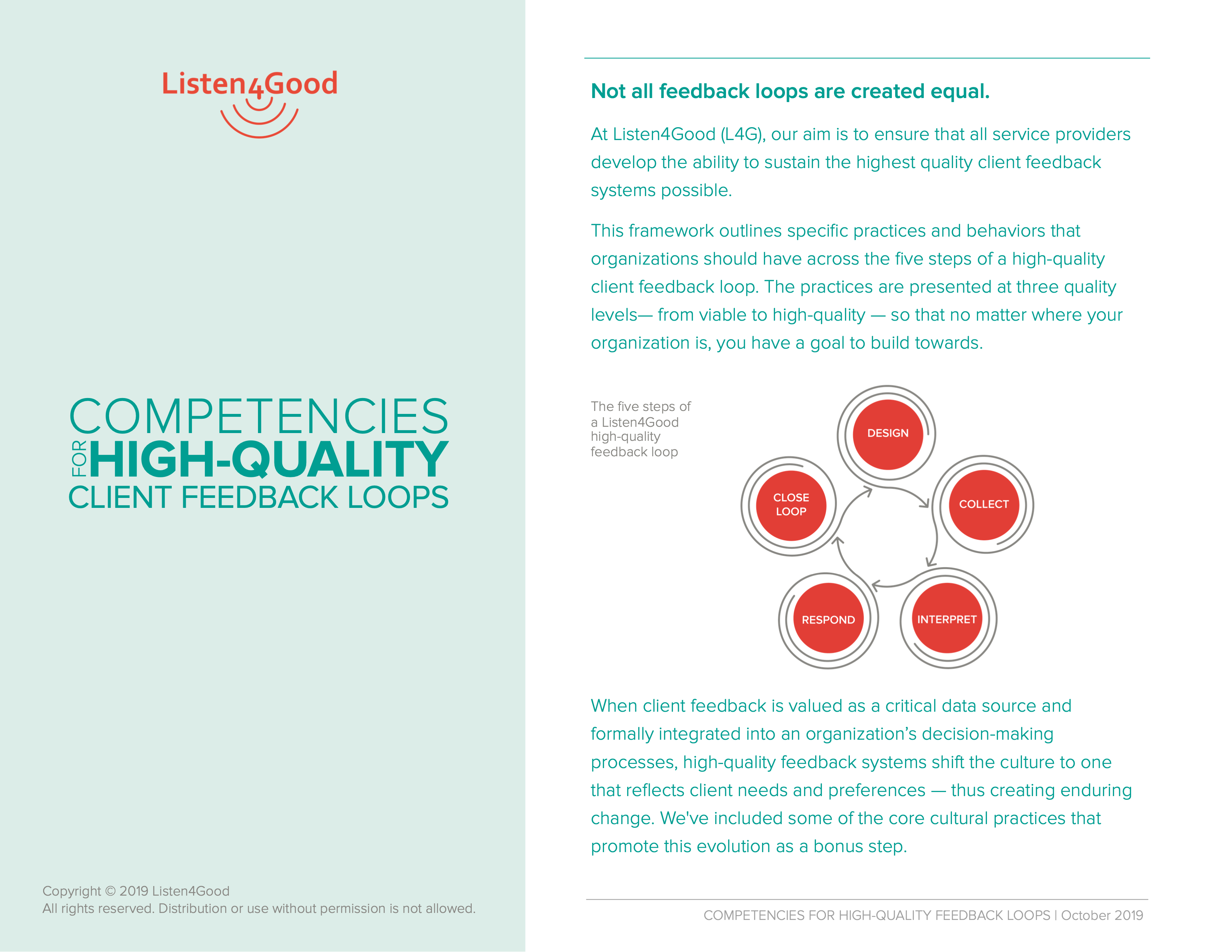 High-Quality Feedback Loops: This framework outlines specific practices and behaviors that organizations should have across the five steps of a high-quality client feedback loop.