Fund for Shared Insight announces organizations selected to beta test the new Listen4Good web app, a tool to help social-sector groups listen to and learn from their clients 
---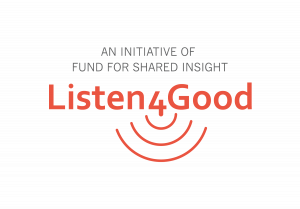 Fund for Shared Insight has approved nearly 200 organizations to participate in Listen4Good Online Beta, a program to test our groundbreaking Listen4Good (L4G) web app expected to be launched more broadly next year. The new interactive website puts sophisticated customer-service feedback tools in the hands of organizations that want to make meaningful improvements to programs and services based on their clients' needs and preferences.
Selected organizations will receive a $5,000 honorarium; paid access to a premium SurveyMonkey account; and unlimited access to the app, which features a rich array of materials — including step-by-step guides, video tutorials, and peer resources — to move users through a proven five-step process to design and implement high-quality, client-focused feedback loops.
Our goal is to spend the coming months learning and experimenting along with L4G Online Beta participants, ultimately creating a sustainable, high-impact, easy-to-use, and widely available online feedback product. The 192 participating organizations are spread out over 35 states and one U.S. territory; 181 are nonprofits and 11 are government agencies. They work in a variety of sectors including human services, education, health, and community development.
As we welcome the new beta testers to L4G Online, our L4G co-funded grant program continues, with a new round of applications opening up this month. To apply for a co-funded grant, nonprofits must be nominated by a funder who wants to actively engage with grantees' feedback efforts and contribute $15,000 of the $30,000 grant total for each nonprofit selected. Applications for the co-funded grant round will be due in September.
We expect participants in L4G Online Beta to be getting their feedback efforts underway this month.