Fund for Shared Insight's work to honor and elevate the voices of those least heard and build meaningful connections among nonprofits, foundations, and the people and communities we serve continues with purpose. Here's our latest news:
If you are one of the 750+ funders that signed the Council on Foundations' COVID-19 pledge, you can take advantage of a new, streamlined version of Shared Insight's signature national feedback initiative, Listen4Good. As a funder, you can sponsor your nonprofit partners to participate in this opportunity to listen to the people they serve, and especially those who are most vulnerable. Join a webinar on June 18 for more information.
Any funder can nominate their grantees for — and nonprofits can apply to participate in — our Listen4Good co-funded grant round, which is an 18-month capacity-building program. Applications are due July 17.
Shared Insight invites you to watch these three new video shorts highlighting why feedback matters, hearing directly from the people foundations and nonprofits are listening to.
More details below
New Listen4Good Opportunity for COVID-19 Pledge Signers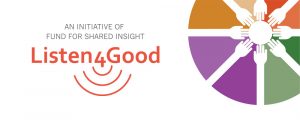 On June 18, Fund for Shared Insight will announce a new Listen4Good (L4G) offering specially designed for the more than 750 funders that signed the Council on Foundations' COVID-19 pledge. The pledge consists of eight commitments, including: Commit to listening to our partners and especially to those communities least heard, lifting up their voices and experiences to inform public discourse and our own decision-making so we can act on their feedback.
To help signatories fulfill this commitment, Shared Insight is inviting them to nominate grantees and underwrite their participation — at $1,000 per organization — in a streamlined version of L4G. Participating nonprofits will receive a SurveyMonkey account, access to the L4G web app, up to three hours of one-on-one coaching, group learning opportunities, and access to a new peer learning platform. The goal is to support as many as 250 direct-service organizations to implement high-quality feedback loops with the people they serve.
INFORMATION WEBINAR:
Funders – Register for June 18 webinar
Funders and Nonprofits Invited to Participate in Listen4Good's Co-Funded Grant Round

Shared Insight is also inviting funders that signed the listening pledge, along with any funder interested in listening and feedback, to participate in the 2020 Listen4Good co-funded grant round. This 18-month grant opportunity provides nonprofits implementing high-quality feedback loops a more substantial capacity-building grant, more robust coaching, and facilitated connections between funders and grantees. The latest co-funded grant round is now in progress with applications due July 17, 2020. To participate, an organization must be nominated by a current funder (existing or new). Nominating funders contribute $15,000, which is matched by Shared Insight's national funders for a grant totaling $30,000 per organization.
INFORMATION WEBINARS:
Funders – Register for June 18 webinar 
Nonprofits – Register for July 1 webinar
Nonprofit Clients Featured in a New Video Series on Why Listening Matters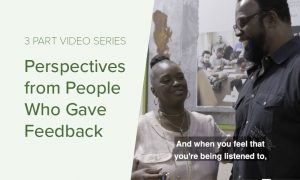 Shared Insight introduces a new video series, "Perspectives from People Who Gave Feedback." The three short videos offer a quick and meaningful look at what it means when funders and nonprofits listen to the people they seek to serve. Says Reina, in Massachusetts: "[A] lot of times, systems have let people down. You can't just build something and expect people to come to it. I think people need to be a part of that process and know what's happening and then they have more trust."