Grantee Gathering 2016 Follow-Up
A Letter from Our Managing Director, Melinda Tuan
November 16, 2016
Dear Colleagues,
It's hard to believe how much has happened since we gathered together in Washington DC on October 26th for our Fund for Shared Insight Feedback Grantee Gathering.
We are grateful to each one of you who participated in the gathering and hope you came away energized to continue listening to and acting on the preferences and perspectives of the people at the heart of our work.
Thank you to the 100 of you who filled out our feedback survey – a 71.4% response rate. A report of the scored responses to the survey (not including the verbatim comments to protect anonymity of respondents) is available for download to the right of this letter, and a summary of the verbatim comments we received is below in this letter. Overall:
96% of you agreed or strongly agreed that the grantee gathering met our goal to build community around mutual experiences with feedback loops
94% of you agreed or strongly agreed that the grantee gathering met our goal to inspire one another to implement high quality feedback loops
93% of you agreed or strongly agreed that the grantee gathering met our goal to learn together and from one another
74% of you agreed or strongly agreed that the grantee gathering met our goal of making new connections between feedback work and philanthropy objectives
We are pleased that our three primary goals for the day were met. We are not surprised that we have a ways to go on making that connection between your feedback work and improving philanthropy and heed the comments from several about the need for greater clarity around this "fuzzy" concept of how funders are learning from and using feedback to improve philanthropy.
Overall the verbatim comments indicated that the short talks were very well received and people wished they had more opportunities for facilitated and open networking. Most people wished the grantee gathering spanned two days instead of one long day/evening. And most people thought the day was facilitated well despite being very full. In terms of improvements, many people suggested more time for discussion, better breakout spaces, smaller groups for conversation, more targeted groups for breakouts, more time for networking, more time for reflection/digestion, and more time together (two days instead of one).
To be clear, we don't know yet whether or how we'll facilitate feedback grantees learning from each other in the future (e.g. we're not sure at this time if we'll have a single, national grantee gathering of this scope next year) but we will keep all of this feedback in mind for our future planning.
In the meantime, we would like to close the loop on specific requests we've had to share the presentations and videos from the gathering. To that end, please visit:
https://fundforsharedinsight.org/grantee-gathering-2016/
Many thanks to our colleagues at CEO, PACE Center for Girls, Good World Solutions: Laborlink, Our House, YouthTruth, Habitat for Humanity Greater San Francisco, and Nurse-Family Partnership for your contributions to the short talks at the gathering and furthering our collective learning through these presentations and videos. We anticipate adding more presentations, videos, and stories over time to highlight the work of more organizations and share learnings.
As always, we welcome your feedback! We're happy to talk with you if you have any follow-up questions or concerns about the grantee gathering or about our work at Fund for Shared Insight. It is a privilege to support your work.
Warm regards,
Melinda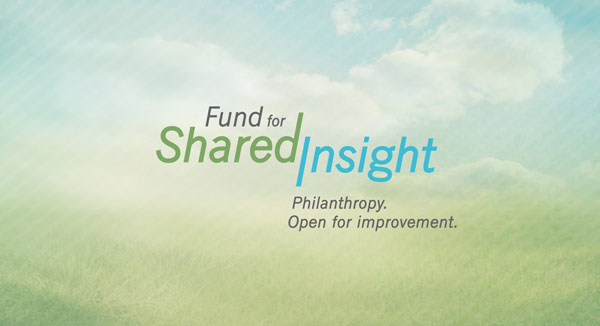 SURVEY FEEDBACK
See what our attendees said about the Grantee Gathering. View our event survey feedback results.