One of the Mid-Iowa Health Foundation's largest systems-change initiatives supports people doing their everyday work — local advocates addressing social determinants of children's and families' health. Through its HealthConnect Fellowship, the foundation has so far supported 27 fellows with stipends, capacity-building and networking opportunities, and unrestricted grant funding to direct toward their advocacy projects.
The Greater Cedar Rapids Community Foundation is investing in people at the grassroots, too. Combining its goals of supporting emerging nonprofit leaders and building toward racial equity in its own work and throughout the sector, the community foundation launched the Thrive Cohort, engaging emerging Black and Brown leaders in shared learning and partnership. After hearing that many participants in the first cohort used some of their $10,000 grant funding toward their own continuing education and professional development, the community foundation committed to funding professional development grants and expanding the number of participants in its just-launched second cohort. The second cohort focuses on advancing racial equity by helping nonprofit organizations close the racial leadership gap and diversify staff and managerial teams.
These efforts, from two members of our Iowa Council of Foundations network, center people with lived experience — and thus lived expertise — who lead in their organizations, neighborhoods, networks and communities. The foundations understand that making direct investments in leaders alone has its own merit, but each of the foundations has also identified the cascading benefits of being in partnership with and learning from strong community-based leaders and community-led efforts. And they have each taken conscious steps to listen to the fellows and cohort participants, using their input to inform funding strategies, community leadership work, and advocacy agendas. Additionally, the foundations have intentionally connected their new partners with other community leaders, nonprofits, and donors, emphasizing a commitment to center community voice throughout their own broader networks.
The programs at Mid-Iowa Health and Greater Cedar Rapids are just two examples illustrating how many Iowa Council of Foundations members are evolving around ideas and practices that value and promote funder listening. We have been helping guide our network members through this journey, which began in 2017 with a $20,000 micro-grant from Fund for Shared Insight through the United Philanthropy Forum. We used this funding to launch a two-year Foundation Openness Cohort. Over the course of the project, we came to name and internalize the meaning of openness as it relates to our network's values and practices. A report on the project puts it best: Strategic openness is when "funders are actively influenced by the needs and ideas of grantees, applicants, and the community."
Our work around openness and transparency (which we define as funders sharing information about themselves with grantees) led us to also explore listening through grantee feedback loops and confront inequities in our procedures, policies, and practices. To keep moving forward, we sought out and developed new relationships and opportunities, including partnerships with the National Committee for Responsive Philanthropy on their "Power Moves" guide; Grantmakers for Effective Organizations on their capacity-building and participatory grantmaking efforts; and with the Trust-Based Philanthropy Project to learn more about addressing power dynamics and building equity into our systems.
All this work around trust, power, and equity led to difficult, but honest and wide-ranging conversations about inequities more broadly in philanthropy and in our state. In 2019, our board adopted a strategic priority to advance racial equity in philanthropy in Iowa. We truly feel the Shared Insight grant sparked this work both for our organization and for our membership network. In the same way, we draw a direct line from that openness grant to the concept of "people-first philanthropy," which emerged during a recently completed board and staff strategic planning process. We discussed what this meant to each of us and the ways in which this approach was already being tested, demonstrated, and embraced at our organization and among our network members.


Here are a few more examples of how this long-term, intentional learning agenda has propelled our work in powerful and positive ways:
The Community Foundation of Northeast Iowa's new strategic plan focuses on integrating racial equity into each of the foundation's strategies. To identify tactics, the foundation listened to BIPOC leaders through a survey. As a result, the new plan prioritized communicating more directly about racial equity and includes finding new ways to communicate with BIPOC audiences, amplify Black voices, and increase inclusion through collaboration.
The Community Foundation of Greater Dubuque is currently updating its Community Equity Profile, a report meant to inform community leaders and policymakers on how diverse groups are affected by systems, such as housing, education, and health care. The process of gathering both quantitative and qualitative data includes hosting community-wide panel discussions, conducting surveys and additional research, and hosting community member-led focus group dialogues to hear from residents.
The Community Foundation of Greater Muscatine established a Racial Justice Fund and convenes a community Advisory Committee of BIPOC leaders to provide an avenue for engagement in their diverse rural county. Board members played a key role in the work by giving to the fund, promoting the fund, co-sponsoring community events and participating on the grant review team.
Our new strategic framework will guide us and our members in deepening our racial equity strategies and exploring intersectional equity and justice. I wish I could say now that six years ago I knew the launch of our Foundation Openness Cohort would lead us here, but I didn't. That seemingly small project helped transform our network and continues to shape the trajectory of our work. Through openness, listening, and centering racial equity, we are hoping to create space for grantees and the people and communities we serve to partner with us in designing, building, and strengthening philanthropy, leading to more equitable outcomes for all.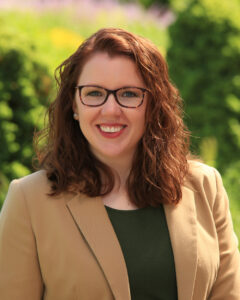 Kari McCann Boutell
President, Iowa Council of Foundations